Listen live while we're recording or on demand by clicking or hovering over the podcast link in the menu bar above.
SUPPORT THIS PODCAST & MAKE IT AN EVERY WEEK SHOW
Just hours after releasing information that this show would be happening for 4 weeks starting at the beginning of August, I was asked by several community members how they could help make this an every week production. My answer to that is, support the Patreon and PayPal campaigns, share the podcast, write a 5 star iTunes review and spread the word. Even a buck a week helps take this show from concept to an every week production.


---
---
LIMITED-EDITION SUPERHERO TALK LIVE T-SHIRT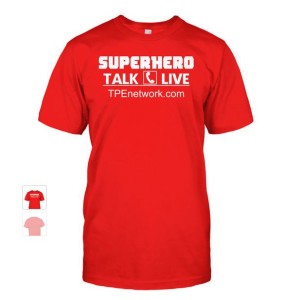 ---
SHOW INFO
CALL-IN LIVE – +1 810-288-6208
SKYPE-IN LIVE – TPE.NETWORK
VOICEMAIL MESSAGE PRIOR TO 11 am EST ON SUNDAYS 810-309-8445 or CLICK THE SEND VOICEMAIL WIDGET ON THE SIDE OF THE PAGE.
EMAIL FEEDBACK (CONCISE) PRIOR TO 11 am EST ON SUNDAYS – FEEDBACK AT TPENETWORK DOT COM.
---
SUBSCRIBE
---
SHARE THIS PAGE